Case study:

Use of SnakeGrid for Redoubling of Ebbw Vale railway line in South Wales
Colas Rail Survey has been using SnakeGrid for most of their railway projects. One of the more challenging contracts was Network Rail's Re-doubling Railway line from Crosskeys Station to Ebbw vale Station in South Wales. This picturesque line is located in one of the Welsh Valleys and follows the Ebbw River. This means the line is very bendy with some tight curves following the river and very steep hills on either side, with total elevation amplitude from Newport of almost 250 metres.
Tomasz Koniuszy of Colas approached Dr Jonathan Iliffe to commission a new SnakeGrid that would follow this very narrow (circa 50m to 100m wide) corridor and therefore allowed them to establish a survey control network with minimal distortions. The total length of the project was approximately 17km, but a significant challenge was to minimise the distortion due to the elevation differences across the project.
Tomasz supplied 39 seed points with Easting and Northing in the National Grid, and elevations related to Ordnance Datum Newlyn. The resulting grid, EBBWV14, had a maximum scale factor distortion of just 8.0 ppm.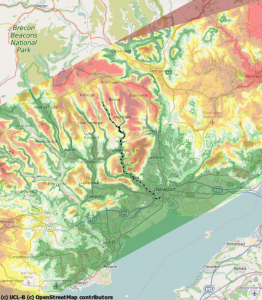 The quality of the survey control network needed to be and was to the highest achievable standard and ready for design surveys, design verification, setting out, as built surveys, for the whole duration of the project, which closed in fourth quarter of 2015. According to Tomasz Koniuszy of Colas, SnakeGrid proved to be a very useful tool in achieving this: "Not only did it save time by us not having to create a project projection following the awkward layout of the line with all the maths having to be done from our office, but also it proved to be very robust and accurate tool".
For more details please contact: Tomasz.Koniuszy@colasrail.co.uk
For more about Colas Rail: http://www.colasrail.co.uk/